How to Make an Appointment
We have many ways you can book an appointment:
Please be assured the surgery is fully open, in an effort to reduce the risk of spreading the Coronavirus we have made some important changes on how you access our service at Chelsfield Surgery.
E-Consult:  
E-consult is a great system, which enables you to seek your medical advice more efficiently also, you may even get the help you require without needing to see a doctor. E-consult is an online form that you complete detailing your request both clinical and administrative. The form can also be completed on your smartphone and tablet via the NHS App or by going to the Chelsfield Surgery's homepage. It is an NHS-approved 'digital triage and patient history taking tool', or it could simply be described as a form that guides patients through a series of specific questions in relation to the issue that has been selected. The eConsult has been designed to enhance patient access, improve practice efficiency and signpost patients to the right place at the right time for their care. Nurse appointments can be booked directly with the practice, you do not need to complete an eConsult.
Practice is now releasing more than 50% of its appointment face to face. If you would like to see a clinician please include this on your e-Consult form.
E-Consult – this is available Monday to Friday (except on Bank Holidays).
If you experience problems or have any questions, please contact a member of the reception team who will be happy to help you.
Please note the eConsult service is only available for self-help and pharmacy advice over weekends and Bank Holidays. If you have a medical problem, please use the 111 online service which you can access here – NHS 111 online or by calling 111.  If you have an emergency that needs immediate attention, call 999.
NHS APP: 
The NHS app is an app with many benefits:
Review and get your NHS COVID pass for travel and domestic events (only if you had the vaccine in England and/or Isle of Man)
Have access to your medical records; such as your consultations, test results, immunisations history, allergies + more
Request your repeat prescriptions
Book appointments.
Patient Access: 
Patient Access is similar to the NHS app, but you cannot use this to get your NHS COVID pass, currently.
You still get the same benefits as above.
By Phone
If you do not have internet access, or need urgent advice from a GP
Our phone lines are open Monday to Friday 8am – 6.30pm (except on Bank Holidays)
You can also book an appointment by calling reception on 01689 852204.
In Person
Patients can visit the surgery and book an appointment with the receptionist.
Outside of our opening hours, you have many options available to you: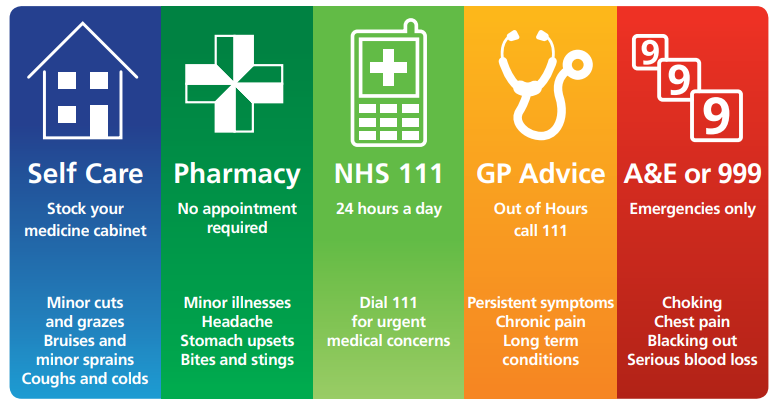 Additionally You can have a look at the NHS Symptom checker here and see what advice it gives you!